Linebacker Prospect Primer Rounds 1-3
Picking up the Draft primers with the Linebackers for part two.  Let's go over a couple of factors with the LBs in the wide-9 scheme as this is another part that people don't seem to have a strong grasp of.
I.  This is a downhill, attacking scheme and you want your LBs to be able to attack and fill gaps quickly, especially against the run. The ability to cover sideline-to-sideline isn't imperative.
II.  Due to the alignment of the defense the outside linebackers in the wide-9 are actually going to play more like inside linebackers in a 3-4 package. This is because the defensive ends in the wide-9 are your edge players on the line of scrimmage.  After all, the 4-3 wide-9 concept was created by Jim Schwartz and Jim Washburn as a way to play with 3-4 principles while using 4-3 personnel groupings.  The OLBs in the wide-9 don't have to be the 6'3" 250lbs+ guys you see in a 4-3 Over/Under "SAM" linebacker or as an edge OLB in a 3-4.  You can get away with some smaller, quicker guys so long as they can fill gaps hard and fast and have enough "sand in the pants" to take on a TE or FB as a blocker.
III.  Most teams using the 4-3 wide-9 as their primary defense have a right and left outside linebackers rather than a strong and weak outside linebacker* as your adjustments come more with the defensive line as most defensive ends can play the wide-9 technique and the wide-5 (really a ghost 7) techniques and most defensive tackles can play both a 2i and 3 techniques.
IV.  The middle linebacker in the wide-9 is usually going to be a bigger, stronger more physical player. Think of players like Stephen Tulloch (5'11" 245lbs – not tall, but thickly built) or Brandon Spikes (6'2" 255lbs).  This is why Miami nabbed Raekwon McMillan in the second round of the 2017 Draft.  McMillan (6'2" 248lbs) is strong, physical and a solid technician as a tackler.  The exception to this rule is if you have a lighter player that is strong, BUT has elite quickness.  By nature of the alignment of the defense your MLB is going to be taking on either the center or a fullback/lead blocker, so that's why the size factor matters.  However, we've seen players like Jordan Hicks and Tahir Whitehead, who are a little smaller – 236lbs and 241lbs respectively – but possess elite quickness and speed, have success in the middle.  Miami tried this with Kiko Alonso in 2016 and got mixed results.
V.  In today's NFL, most defenses are going to be in a nickel or other sub package more than 66% of the time, so that third linebacker isn't as important as it once was. The "SAM" LB in a 4-3 is becoming a bit like the fullback on offense (i.e. going extinct).  What IS important is that you have two linebackers you feel comfortable with being on the field the majority of the time.  Ideally, I think you'd like to have one linebacker be a 3-down guy with another guy that's capable of playing 3 downs but can be subbed out if you go into a dime (6 DB) package.
*As it relates specifically to the Dolphins, one adjustment they've seemed to incorporate is playing more of a traditional Under look when they face two tight ends to the same side and/or an unbalanced line.  That's something that isn't "tradition" to the wide-9, but Miami is able to do that thanks to William Hayes' ability to play a tighter technique (usually a 5 or 6) as the closed defensive end.
Going into the Draft, I'd stack Miami's depth chart at LB to look something like:
RLB             Kiko Alonso                            Stephone Anthony
MLB            Raekwon McMillan               Chase Allen/Mike Hull
LLB/SLB    Chase Allen
I think just about every Dolfan knows that Miami made a mistake forgoing giving Kiko Alonso a 2nd Round RFA Tender after the 2016 season and opting to give him an extension instead.  Alonso shifted to outside linebacker (where he's better suited in this defense despite what a lot of Dolfans seem to think) and played well for the first 5 games of 2017.  He fell off after that second Jets game and was getting routinely worked in coverage assignments against both backs and tight ends by the end of the year.  Unfortunately, barring a trade, Miami is stuck with Alonso and his contract until after the 2018 season.  So, it would seem to be smart if they're able to find a linebacker and/or a dime package player that can take on some of those coverage responsibilities and render him as a one or two down backer.
It took Raekwon McMillan all of two practices to be named the starting middle linebacker.  Unfortunately, he tore his ACL covering a punt in preseason and missed all of last year.  I think he comes back this season and plays well as the middle linebacker in this defense.  Which is to say he's going to be a run-stopper from B gap to B gap, albeit I think he'll be better at it than Rey Maualuga was last year.  Plus, I think he gives you the opportunity to do some more things as far as blitzing and coverage assignments go.  He's not going to be Luke Kueuchly or Patrick Willis, but he's going to be a good player in this defense and I think he's got potential to become a 3-down LB with more experience.  Personally, I think it'd be a mistake to overload his plate with responsibilities in coverage right off the bat, but don't get me wrong, this is a smart player who will be a leader on defense.
The third spot I'd say currently belongs to Chase Allen who started one game at outside linebacker when Timmons went AWOL and several other games at middle linebacker when Rey Maualuga was released.  He's a solid player and an above average athlete, but I'm not sure he's a three-down guy; Miami should try to improve upon bot he and Kiko Alonso.  Allen would serve as nice depth.  I think he and Mike Hull give you two guys who can play special teams, and Stephone Anthony might offer something in the way of being a coverage specialist linebacker.  He was used in that capacity last season to take away some of Lawrence Timmons' snaps at the end of the season when Timmons simply looked old.  Counting on him to be a full-time starter would not be a wise option, but I think they'll let him compete.
Taking all of that into account, I think Miami's need at linebacker centers on this:  finding a guy who can be a 3-down player from day one, or take over for Kiko Alonso as a 3-down player in the not-too-distant future.  Ideally, I'd love to see Miami double-dip at LB in this Draft so they can flush Kiko Alonso and Stephone Anthony after 2018 barring some unexpected jump in play from both of those guys.
I'll list my targets at LB alphabetically by last-name in the categories of Round 1 Targets, Round 2-3 Targets, and Round 4+ Targets.
Round 1 Targets
Tremaine Edmunds – Virginia Tech – The former Hokie may actually fit best in terms of what Miami's looking for in terms of filling gaps and playing downhill.  At 6'5" 253lbs he certainly fits the size prototype that Miami's always seemingly looking for, even though I think you can get away with not hitting prototypical size at the OLB spots in this defense.  I think one thing a lot of people ding Edmunds for is that he takes false-steps and doesn't trust his keys.  I think that's more a product of Bud Foster's defense than it is Edmunds being slow to recognize what's going on.
The real ding is that I'm not sure he's as well-versed in coverage as you'd like.  You can see him show off some examples of being able to turn and run with smaller, athletic players:
But, if you look closely at that GIF, you see he's late to get his head around.  You do that against a bigger target like a Rob Gronkowski or Travis Kelce with an NFL caliber QB throwing the ball and that's either a completion or defensive pass interference.  I think that's an element of his game that's going to take more time to coach into him whereas someone like Anthony Barr is more of a natural player in coverage.
Where Edmunds is going to make his money is by attacking downhill and making tackles. I couldn't find a good GIF of him attacking downhill immediately from an alignment close to where he'd be playing for Miami, so you'll have to excuse that.  However, in this one, he's able to follow the offensive linemen laterally as they try and setup for the outside zone play.  Once he sees daylight in front of him he attacks and makes the tackle for a 4-yard loss despite the back trying to make a cutback inside.  Of the guys available in my Round 1 Targets he's my second favorite.
Rashaan Evans – Alabama – Rashaan is my favorite OLB target for the Dolphins.  Most boards I've seen have him as a late-1st or early-2nd round pick.  I'd be surprised if Miami took him at 11; that'd be a shocking move like when Seattle picked Bruce Irvin in round one.  However, despite the perceived "reach" in value, I'd think it'd be a great pick.  That said, I think he's a target if Miami trades down in the first or, if they get really, really lucky and he's sitting on the board at pick 42.
The best part of Evans' game is his speed.  He's fast.  And at 6'3" 234lbs, he's still really damn strong, which is what you'd look for in a wide-9 outside linebacker.  He chews up ground really quick in this clip for a sack. He's a sure tackler who packs some pop when he stays squared up.  Take a look at this hit against LSU stopping the TE shovel pass.
Here's a great clip from Jon Ledyard's Twitter Feed of Rashaan getting inside the RT and making a stop shy of the first down marker.  He's got some really nice hitting power.  Jon Ledyard has a bunch of other great Rashaan Evans clips in his feed as well.
Rashaan Evans is a monster. Why hitting power matters 101 pic.twitter.com/aU1SHyu0eM

— Jon Ledyard (@LedyardNFLDraft) March 8, 2018
I think the one ding you give Evans is that he doesn't always have the quick trigger.  But, when he sees it, he can close in a hurry.  He also gives you some flexibility as a blitzer and possesses some edge-rush capability.  I think that plays into things when you see Miami run an Under front against twin-TE and unbalanced line packages.
Roquan Smith – Georgia – Stay with me here.  I think Roquan Smith is probably the most talented linebacker out of all of these potential targets.  That includes being the most talented between the three of he, Edmunds and Evans.  However, of those three, his fit in this defense is the most dicey.  Now, he's bulked up a bit from the 6'1" 225lbs product he was during the college season.  He weighed in at 6'1" 236lbs at the NFL Combine, heavier than Rashaan Evans.  The reason he's the worst fit of the three for Miami is that he had the benefit of playing behind a truncated 3-man front that protected him and allowed him to move laterally without taking on blockers.  You just don't see him attack downhill and take on a blocker head-up the way you do with Edmunds, and especially Evans.  It's just not there.
With that in mind, I'd be SHOCKED if Miami drafted Smith with the idea of playing him as a MLB.  It just doesn't make sense, but it's a notion I've seen a lot of Dolfans talk about.  It just doesn't jive.  What I think is more likely is that they would try to 1) keep him on the weakside and move Kiko Alonso back to the middle and play Raekwon McMillan at the other outside spot where Lawrence Timmons played in 2017.  I don't like that as you're mucking up two positions for the sake of one.  I think 2) playing Smith where Lawrence Timmons played is more likely, but it's also risky.
Again, I like Smith as a player, but I think he carries a higher risk for Miami's defense than he would another team.  That's just how it is as Adam Gase and Matt Burke seem committed to running the wide-9.  I think there's merit behind that choice.  More on that later this offseason.
Now, that's not to say Smith would be a terrible fit in this defense.  Here you can see him timing the snap and shirking the left guard to get in on a tackle with relative ease.
This would be what he'd be tasked with doing in Miami snap after snap against the run. The question is can he hold up doing that? That film is lacking, so that's a projection you'd have to make.  Here's an example of him not attacking the hole right off the bat and "waiting" to jump into the fray.  In Miami's defense, he's going to have to attack downhill more quickly.  You see the Patriots run this play frequently as well as other teams, including Miami.  The TE blocking to the backside shouldn't make Smith hop around as much as it does.
Where Smith excels is using his speed an athleticism to be a rangy player.  He's actually a step late in covering the back on this play, but still he mows him down with his speed and ability to chew up turf.  You'd like to see him break down a little more, but this is a damn good play.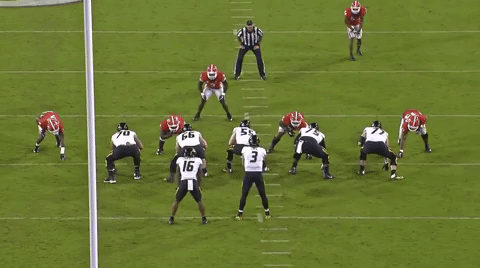 Here you can see Smith's ability in coverage.  This may look like a simple play, but it's something that plagued Miami as Kiko Alonso and Lawrence Timmons couldn't make this play routinely.  Smith stays home and reads the cross-action with the fake handoff, picks up his man and stays with him stride for stride and stops him for no gain.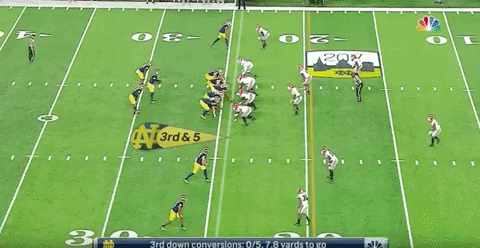 To close the brief on Smith, I think he's a fantastic player and he could solve a lot of issues for Miami in terms of coverage woes.  But, you're going to have to coach him up to be a fit in this defense in terms of making the proper run fits and attacking downhill.  To me, that carries risk at pick 11.  But, that risk could very well pay off with Smith's speed and coverage abilities.
Round 2 – 3 Targets
Jerome Baker – Ohio State – Baker is a guy you wanted to see more from as a junior and he may have benefited greatly from staying in Columbus another year.  He's 6'1" 229lbs but he's a more physical player than Roquan Smith in my opinion.  The problem is that he's a bit lazy.  The hustle factor isn't always there for him.
Baker, like Smith, is a fast athlete and when he sees the play, he can move in a hurry and is a pretty solid tackler.  He's got the burst to run right by the RG trying to wall him off and makes the stop for a 3-yard loss.
Here he blows right by the blocker on the swing pass and makes a nice stop for a loss on the RB.
While he does have coverage ability, he does have a tendency to get lost in space at times.  Here, he has good leverage on the receiver but peaks in the backfield and doesn't stay in stride with the wheel route.  A better throw and this is a touchdown.
And, of course being as slight of frame as Baker is, you always run the risk of getting washed in the run game.
Bottom line, Baker's a guy that probably ends up being there in the 3rd round.  I think there are elements of his game that are worth trying to develop, but you can see the warts in his game just about every time you watch him play.
Malik Jefferson – Texas – Jefferson's a height-weight-speed guy for me.  He's 6'3" 236lbs, and could probably put on more, and ran a 4.52.  His weakness is reading and diagnosing plays.  Now, Texas' defense was pretty bad all around, and I'm not a fan of their scheme, so that may have something to do with hit.  I like the athleticism and think that might give Miami something to work with if they're interested in Jefferson.
Here he actually blows through two blockers and overruns the back.  Still, he messes up the play enough so that the help arrives and still finishes the play stopping the back for a loss.
Here you see the opposite.  Will Hernandez, the UTEP LG, pancakes his defender giving Jefferson a plain, open-window read.  The weird thing about this is while he's dropping back pre-snap to maintain his coverage responsibility, he never looks away from the backfield, but still doesn't trigger and attack the play.
Here's another example of Jefferson improperly reading the play allowing himself to get blocked.
I do like Jefferson's potential in coverage.  He's fast enough to stay with some of the more dangerous tight ends you're going to see in the league.  Here, I like how he undercuts the post route knowing he's got a robber in the area.  This clip is from his freshman year, and you can see he opens his hips a little early, but I like the general awareness and abilities on this play.
When Jefferson gets it right though, he closes with speed and authority.  I really like his potential, and he's one of the few LBs whose reads are similar to what he'd be seeing as a Dolphin.  There's work to be done here, but I like the overall package so long as you can coach him up well.
Fred Warner – BYU – Warner is a player that I think will get drafted higher than where he's listed on most draft boards.  He played OLB in BYU's 3-4 defense, but he looks like a big strong safety.  He even plays like a safety at times notching six interceptions as a Cougar.  He's got a nice ability to read the plays and jumps routes aggressively.
Here you can see him split through two blockers and show some decent burst to make a TFL.
He does have some experience playing coverage responsibilities from the slot, which could be appealing to Miami given his length at 6'3".  He checked in at 227lbs, smaller than Evans, Jefferson and Smith, so that may be a bit concerning to Miami.  At the Senior Bowl he played inside and Fran Duffy, of the Philadelphia Eagles website, gives a great breakdown of him here:
In particular, this play is something that's going to intrigue the Dolphins.  He's lined up as an off the ball LB (keep in mind, he was a 3-4 OLB) and diagnoses the inside zone and snuffs it out quickly.
Warner is a guy that might have to start off as a coverage specialist LB, but could work his way into starting LB with some time.  I think you also have to see what he does in terms of putting on more muscle with a full season in an NFL strength program.  But, Warner is a guy that I like quite a bit for Miami's needs.
Click here to see the prospects in rounds 4+:
https://lockedondolph.wpengine.com/dolphins/linebacker-prospect-primer-rounds-4/
Miami Dolphins Week 9 Monday Morning Thoughts
Tua Tagovailoa has IT.
Brian Flores is THE guy.
And I have to admit, Chris Grier has done a phenomenal job.
After an exciting 34-31 victory over the Arizona Cardinals (5-3), the Miami Dolphins (5-3) solidified themselves as a legitimate playoff team in the AFC. Sure, you can say we're getting a bit cocky – we've watched our team falter plenty of times before. But do you get the sense that these are the same Dolphins we've been watching this century?
Right now, are you skeptical or optimistic?
Do you have butterflies because you're nervous or because you're excited?
Do you think the Dolphins are trying to survive each game or do you have confidence that they'll win?
Coming off of 4-straight victories, it's easy to feel like we're on top of the world, but this team looks different. It feels different. They act different.
Something special cookin' down in Miami! 🤫 https://t.co/GDuC4Aogu5

— Jakeem Grant (@_TheDreamIsHere) November 9, 2020
Below are a few thoughts following Miami's promising 34-31 victory over the Arizona Cardinals.
Monday Morning Thoughts
Tua Tagovailoa is the franchise quarterback we've been waiting for
Admit it, when they originally ruled that throwaway an interception, you saw shades of every failed quarterback to come since Dan Marino.
tua's first career interception? pic.twitter.com/GkSn8KGeBw

— josh houtz (@houtz) November 8, 2020
That play was so comically bad that it easily could have defined Tua's career if it didn't pan out. Thankfully, it was ruled that the receiver's foot was out-of-bounds and it was an incomplete pass – but imagine the memes that would have been unleashed if Miami lost this game and that play counted.
But, it didn't count….and the Dolphins didn't lose….and Tua Tagovailoa out-dueled Kyler Murray when it mattered most.
When the Dolphins needed a game-winning drive, Tua delivered. When Kyler Murray had an opportunity to tie it, he didn't (along with an obscure Zane Gonzalez kick).
Tua's elite pocket presence, accuracy, decision-making, and ball placement were all on display. And none of that accounts for the plays he made with his legs.
.@Tua said SEE YA

📺 @NFLonCBS pic.twitter.com/8oIoVSJse9

— Miami Dolphins (@MiamiDolphins) November 8, 2020
TUA WITH THE JUKES!!! 🤩 pic.twitter.com/FKScMk6wmR

— LasnerSport (@LasnerSport) November 8, 2020
If you're a Dolphins fan, you're thrilled with what you saw. And though it's only a small sample size, I think we can all exhale – he looks like he's the guy.
Ted Karras on Tua

That one scramble where he split those guys was exceptional. I don't think any moment is too big for Tua. He works hard and has earned the respect of everyone in that huddle.

— Travis Wingfield (@WingfieldNFL) November 9, 2020
Byron Jones is still a damn good Cornerback
After three-straight dominant performances, Byron Jones was a bit humbled this game. We're so used to watching him shut down opposing receivers that a game like this really sticks out.
He was absolutely burned by Christian Kirk on a beautiful deep ball from Kyler Murray late in the first quarter, but that wasn't his worse play.
Dolphins fans and Byron Jones both thought he hauled in his first interception since October, 2017. Instead, Darrell Daniels' first career touchdown reception is one of the highlights of the year as he snatches the ball right out of Jones' hands.
Darrell Daniels took it BACK. What a TD! #RedSea

📺: #MIAvsAZ on CBS
📱: NFL app // Yahoo Sports app: https://t.co/LhAplcRHXB pic.twitter.com/clqWCRk2aG

— NFL (@NFL) November 8, 2020
I mean, Byron Jones had that ball in his hands for an interception, and before they hit the ground Darrell Daniels steals it into his possession. AND somehow had his knee down so it would count as a catch. Crazy.
Miami's (really, it's Brian Flores') now infamous "zero" boom-or-bust scheme is susceptible to the long-ball, as our corners are expected to cover their receivers 1-on-1; with no safety help behind them. So far this season, it has worked tremendously to their advantage (as seen below)
#Dolphins with a zero blitz for the fumble-six. pic.twitter.com/IfPPKn4OYM

— Evan Lazar (@ezlazar) November 8, 2020
But, if your coverage isn't on par, this will happen:
Deep ball DIME from Kyler Murray to Christian Kirk.

(via @NFL)pic.twitter.com/7iAmTe8uVe

— NFLonCBS (@NFLonCBS) November 8, 2020
With all of that said, Byron Jones is still a great cornerback in this league. Was this a bad game? Definitely. But I don't expect this to become a trend. Lets not take for granted the elite secondary we currently have.
Christian Wilkins should NOT stop celebrating
Just please celebrate responsibly.
One of the reasons Dolphins fans adore Christian Wilkins is because of his infectious personality. He's notoriously running in and celebrating every offensive touchdown with his team. His trash talking is innocently intimidating. The way he pumps his team up is perfect for any locker room culture. On top of the fact that he's a pretty good defensive tackle.
Which is why I want him to keep celebrating – and I want him to continue celebrating excessively.
Teria sido Wilkins que machucou Williams? pic.twitter.com/RdR0rHfapJ

— Phins BR 🐬 (@PhinsBr) November 8, 2020
Preston Williams' unfortunate injury during a touchdown celebration is a huge reason why professional coaches like to contain their million-dollar players. Not just on the field, but off the field as well. It makes sense, they're valuable commodities, but Wilkins' spirit is too valuable to douse.
If something like this happens again, then we can talk about stifling his excitement, until then….celebrate smarter.
Xavien Howard's "penalties" tell half the story
Xavien Howard was tasked with shadowing DeAndre Hopkins, and he ended up accounting for more penalty yards (43) than receiving yards against him (30).
Xavien Howard has been flagged for pass interference 4 times now (3 accepted, 1 offsetting). It's the first time he's been flagged more than twice in a game.

Including the offsetting DPI, Howard's 4 PI penalties are the most by a player in a single game over the last 20 seasons pic.twitter.com/fanl15HP0i

— ESPN Stats & Info (@ESPNStatsInfo) November 8, 2020
The real testament to Howard's coverage throughout the game? DeAndre Hopkins, one of the best wide receivers in the league, didn't see a single target in the first half of the game.
According to @ESPNStatsInfo; DeAndre Hopkins has yet to be targeted; that has only happened one other time in his career where he wasn't targeted in the first half – ('13 vs. the Raiders).

— Mike Tannenbaum (@RealTannenbaum) November 8, 2020
A couple (terrible) penalties shouldn't overshadow the fact that Xavien Howard and Byron Jones may be the best cornerback tandem in the league.
The Miami Dolphins need a Running Back in the worst way
Jordan Howard's 8-yard run on the last drive of the game – which helped seal the victory – was his biggest play as a Miami Dolphin. Up to that point, I was kind of rooting for Howard to continue his 1 YPC average. If you take away that 8-yard run (EASILY his longest of the year), Howard has gained 25 rushing yards on 27 rushing attempts (0.93 YPC).
Rookie Salvon Ahmed had a solid game, with 7 carries for 38 yards (5.4 YPC). I'm not sure how reliable he is, but he can't be worse than Howard. If Matt Breida is available for next week's game against the Los Angeles Chargers, I'm sure Howard will once again be inactive, giving Ahmed another shot to prove himself.
We probably should have given Austin Jackson the week off
Austin Jackson returned to the lineup for the first time in 4 weeks (due to a foot injury) and was "ok". He was beat on a few plays, but it's evident he wasn't 100%. I wouldn't make any presumptions based off of this game; if anything, the reps help from an experience/mental perspective.
Will take Austin Jackson time to get rust off; wasn't sharp there in that regrettable series. Though Jesse Davis is now at RG, I would expect to see Kindley again today. Fins trying to fit six guys into five spots, figure out what's best

— Barry Jackson (@flasportsbuzz) November 8, 2020
Jason Sanders is a stud
Jason Sanders connecting on 56 and 50-yard field goals are that much more impressive when you take into account that weird Zane Gonzalez miss (where he was short from 49 yards).
The conspiracy floating around is that the ball died (on Gonzalez's kick) because the roof was open. Yet, Sanders made his 50+ yard field goals with room to spare.
Today's the day we will never take Jason Sanders for granted as he surpassed Olindo Mare's franchise record of 19-straight field goals made.
The Miami Dolphins are going to "have to" extend Emmanuel Ogbah
I think we all would love to see a contract extension, but it's bordering on a "necessity" at this point. Not just because we want to lock up a top-notch defensive end, but because he's going to (rightfully) demand more financial security.
Though it always felt like he was on a one-year deal, this is technically the first year of a 2-year, $15m contract for Emmanuel Ogbah, but there's no guaranteed money tied to 2021 – and there's no way he's playing like a $7.5m defensive end.
Jordan Phillips averages $10m a year with his recent contract, and I think it's fair to say that Ogbah is worth more than that. Expect a holdout if the Dolphins don't give him a raise and an extension this offseason. That's not to say we should be concerned – I think Miami will look to make this extension a priority – but if they don't see eye-to-eye expect a holdout to occur.
The Miami Dolphins – A Tale of Two Franchises
Football is a team sport.
Wins don't individually define a quarterback's success.
Yet everyone agrees that the only way to win in the NFL is to have a quarterback that is better than (just about) every other franchise in the sport.
Once you have an upper-echelon quarterback, then you can talk about the nuances of creating a team. Whether it's surrounding that quarterback with the proper talent, ensuring you've built the right scheme around them, or complimenting them with a staunch defense to complete a championship run, developing an entire roster means nothing if you don't have a quarterback that can lead you to the playoffs.
38 years ago, the Miami Dolphins selected a quarterback that would revolutionize the NFL.
A man decades before his time, the immediate success Dan Marino brought us – after 13 championship-caliber years with Bob Griese – shielded us from the horrors of football purgatory. Maybe it's this curse of #13 that has us clamoring for football relevance after almost 50 years without a Super Bowl Championship.
We watched our franchise devolve from the model of perfection to a team without an identity; floundering desperately to find a viable quarterback for two decades.
And with one swift decision, the Dolphins simultaneously expunged their football idiocy of years past and exhibited the type of football prowess that should lead them to salvation.
As we're destroying the team for wasting 2nd & 5th-round picks on Josh Rosen, we're praising them for building the foundation for future success. Gone are these false prophets of yesteryear, as the real prodigy we've all been yearning for is one step closer to leading the helm.
Once Tua Tagovailoa was selected 5th-overall in the 2020 NFL draft, Rosen's exile was cemented. He was never going to have an opportunity to make it here, it was always going to be Tua Tagovailoa backing up Ryan Fitzpatrick. The grizzly, 13-year veteran handles the nuances of a young football team while the young, energetic and extremely talented rookie spends valuable time learning and developing.
That move…that single transaction…will forever symbolize the moment the Miami Dolphins transitioned from football purgatory to football relevance.
The Purgatory We Built
No one remembers the cost of a successful trade.
Off the top of your head, what did the New York Giants trade to swap Philip Rivers for Eli Manning? How much did Carson Wentz cost the Philadelphia Eagles when they traded up for him? I bet you all remember the litany of picks the Washington Football Team paid for Robert Griffin III, or how badly the Chicago Bears missed on Mitch Trubisky when they gave up a bunch of picks to move up from #3 to #2.
It's because mistakes are always magnified for franchises that fail. As a fan base, we've been groomed to remember all the negative aspects of our favorite football team, because that's all we've known for the better half of our adult lives.
After trudging through this wasteland for so long, we are finally ready to move past all of the detrimental mistakes that have cost us 20+ years of our lives – including the Josh Rosen trade.
Sure, you have your classics like failing to draft (and then sign) Drew Brees, drafting Ronnie Brown over Aaron Rodgers with the 2nd-overall pick, drafting Jake Long over Matt Ryan with the 1st-overall pick, and trading a 2nd-round pick for A.J. Feeley.
Miami undertook rebuilds in 2005 and 2008 under Nick Saban and then Bill Parcells. In both cases the decision was made that they needed to build a TEAM, and THEN get a QB. As a result of those priorities, they passed on Aaron Rodgers for Ronnie Brown, and Matt Ryan for Jake Long.

— Chris Kouffman (@ckparrot) January 15, 2019
It's not that the Dolphins haven't tried, it's just that they have failed almost mightily when doing so.
I respect that Miami was aggressive in their pursuit of Josh Rosen – or for any of the other quarterbacks they've attempted to put under center – but their aggression was either misguided, ill-informed, or even desperate at best.
A year prior to Rosen's draft-day trade, another draft-day trade was occurring – one that would transcend the Baltimore Ravens organization for the prolonged future. With the 32nd pick in the draft, the Ravens selected Lamar Jackson – a quarterback some Dolphins fans wanted with the team's 11th-overall pick.
To move back into the first round and secure a quarterback with the 5th-year option, all Baltimore had to give up was an additional 2nd-round pick (see the full trade at the end of the article).
With their draft-day trade, the Baltimore Ravens landed an MVP.
With their draft-day trade, the Miami Dolphins landed a quarterback that was released for nothing.
Again, I don't fault the Dolphins for being aggressive, but their pursuit was often awry.
The frustrating part of all of this may be that this team actually "spent" both in assets and money, they just didn't seem to take that extra step at the right time.
Spending 2nd-round picks was fine 3 years in a row (with Chad Henne, John Beck and Pat White), but spending 2nd-round picks then became "too much" when they could have moved up in the 2017 draft to select Patrick Mahomes or Deshaun Watson – instead, they stayed put at #22 and drafted Charles Harris.
I love draft grades! A few From 2017
8. Christian McCaffrey, Carolina PanthersGrade: D+
10. Patrick Mahomes, Kansas City Chiefs Grade: C-
12. Deshaun Watson, Houston Texans Grade: C+
22. Charles Harris, Miami Dolphins Grade: A
28. Taco Charlton, Dallas CowboysGrade: A-

— ThatsGoodSports (@BrandonPerna) April 26, 2020
Think about it, Miami's best quarterbacks since Dan Marino were:
Castaway by the New York Jets (and subsequently got his shoulder destroyed like everyone predicted)
(Allegedly) Forced upon us by Stephen Ross because he knew what a new quarterback would inject into a flat-lining brand (ie: making $$)
Between Chad Pennington and Ryan Tannehill there is 1 playoff appearance and 0 playoff wins.
There are definitive reasons why the Dolphins are executing a rebuild in 2019-2020 – after attempting to rebuild numerous times already this century – and you can say that lots of it has to do with the Head Coaches that have been in place.
Watching Ryan Tannehill lead the Tennessee Titans to the AFC Championship came was the most-conflicted I've felt in a long time as a Dolphins fan. I was thrilled he was able to prove himself, but frustrated that my team was once again watching from the couch.
Heck, for all the praise we give Brian Flores, he couldn't get Minkah Fitzpatrick to buy into his system – ultimately losing a near-Defensive MVP player to an organization that has been breathing success since the Dolphins' perfect 1972 season.
Miami hasn't lacked talent – it's why they're constantly hovering around 8-8. The problem is, they lack the most important piece on the football field combined with the right leader to mold them. Which explains why they constantly sit around 8-8.
The Future We Created
But thoughts of perpetual 8-8 seasons are a thing of the past. The Dolphins may have drafted their future franchise quarterback back in April, but they officially rolled out their #1 prize just a few days ago. Coincidentally, just 3 days after Rosen was released.
First look at Tua Tagovailoa in a Dolphins uniform: pic.twitter.com/7N3Fh95Mqt

— Cameron Wolfe (@CameronWolfe) September 7, 2020
The timing is likely coincidental, but who says omens have to be a bad thing?
This Dolphins team is young (thanks to Chris Grier), determined (courtesy of Brian Flores' mindset), talented (after accumulating so many draft picks) and they're wise beyond their years.
Interesting stuff here. At press time, the Dolphins are the 2nd youngest team in the NFL by .1 years of age (Jacksonville). After having the 7th oldest roster in 2018, Miami had the youngest in 2019 and now 2nd youngest in 2020. https://t.co/Ns5IoesIQd

— Travis Wingfield (@WingfieldNFL) September 6, 2020
"He's a really good player. One thing that's really special about Noah is his maturity," Dolphins cornerback Byron Jones said of Igbinoghene. "It's really cool to see a young guy like that come into the league and be so prepared."

— Omar Kelly (@OmarKelly) September 9, 2020
With a bounty of draft picks at their disposal once again in 2021, and with a franchise quarterback seemingly set to take over by season's end, the future for the Miami Dolphins looks EXTREMELY bright.
After most "experts" predicted the Dolphins would go nearly winless – some even calling for criminal investigations to be conducted – Flores showed off his leadership and led Miami to a 5-11 record.
If the worst roster in the NFL can win 5 games, what can an improved roster accomplish?
Last year, there were too many holes on the roster to count. Now, you're desperate to find a missing piece. In 12 months, we've gone from cringe-worthy to dynasty-bound in some expert's eyes.
NBC's Peter King picks Dolphins to win AFC East and be 4th seed, behind Baltimore, KC, Tennessee. And (if you missed this), CBS/NFL Net's Nate Burleson said Dolphins have best chance of any team of becoming a dynasty excluding KC: https://t.co/dOm5zhhVkV

— Barry Jackson (@flasportsbuzz) September 7, 2020
So have the Dolphins finally returned to football relevance?
If this team really identified the right Head Coach, and if Tua's hip can stay healthy, then there's no reason why the Miami Dolphins aren't about to embark on a successful crusade that takes the rest of the NFL by storm.
Earlier this year, we lost one of the greatest leaders to ever bless our organization. In honor of the all-time wins leader, the Miami Dolphins will wear a patch signifying Don Shula's record-setting 347 career wins.
And who knows, maybe this renaissance is Shula's last gift to an organization – and a community – that he spent his life already giving so much to. The symbolism would be all-too coincidental otherwise.
Winner.@DanMarino remembers Don Shula. pic.twitter.com/UDWG3rE1YS

— Miami Dolphins (@MiamiDolphins) May 4, 2020
The Baltimore Ravens/Lamar Jackson Trade:
Yes, I understand every other team passed on Jackson. I also understand the Ravens passed on him once when they selected Hayden Hurst with the 25th-overall pick that year, but Baltimore has built a championship-caliber organization over the past two decades, while the Dolphins have accomplished one playoff win – I think they've earned the benefit of the doubt here.
The Lamar Jackson trade can be broken down like this:
Baltimore traded pick 52 (2nd-round) to move up to 32nd-overall (1st)
Baltimore also sent Philadelphia pick 125 in the deal, but they received pick 132 in return – a downgrade of 7 spots in the 4th-round.
Otherwise, all Baltimore spent was a 2nd-round pick in 2019 (which ended up being pick #53).
Full trade:
Eagles Receive Picks: 52 (2nd), 125 (4th) and pick 53 (2nd) in the 2019 draft
Ravens Receive Picks: 32 (1st) and 132 (4th)
There's A Fine Line Between Being A Genius & Being Dumb in the NFL
Think Brian Flores & Chris Grier aren't smart?
After successfully navigating through all of the pre-draft smokescreens better than teenagers can survive the high school rumor mill, the Miami Dolphins are in a position to flourish for the next decade.
Yes, it's something we've said before almost annually, but this time, there's a clear foundation that will allow the roots of this franchise to prosper.
We've Heard This Before
Tony Sparano blossomed under the Bill Parcells' coaching tree in Dallas, bringing with him an aura of prominence and a pedigree for smash mouth football.
After a miraculous 10-game turnaround that took Miami from #1 overall in the draft to division winners, fans felt they had the proper leadership in place.
That was soon debunked when the Dolphins followed an 11-5 (2008) season with 7-9 (2009), 7-9 (2010) and 6-10 (2011). It's not that any of us feel that Sparano was a bad coach, but it was more-than-evident that he was handicapped at the quarterback position.
The Dolphins go 11-5 in 2008 because their quarterback was the runner-up in the MVP race, and they falter to 7-9 after that because they decided to build around Chad Henne.
I really though back in 2011 after the first opening drive of the season that it was the Dolphins year. This drive by Chad Henne was BEAUTIFUL. pic.twitter.com/dt7WlZoINy

— Cedrick Allen (@SeeCeddyRun) April 16, 2020
Good coach, but poor coaching decisions.
From there, the Dolphins hired one of the best human beings on the planet – Joe Philbin. The notorious problem with Philbin was: he couldn't lead a football team.
Failing to rein in Vontae Davis' hangovers, everything regarding Richie Incognito, the Chad Ochocinco saga (check out this damning ESPN article from 2012, which gives you a glimpse into how the player's felt about Philbin early on), and all of the Mike Wallace drama. Those football teams had some decent talent, yet were never better than a mediocre 8-8 in Philbin's 4 years.
Great person, but terrible with people.
Adam Gase then took a 1-4 season and made the playoffs at 10-6. All the optimism surrounding Ryan Tannehill seemed justified, and we were ecstatic for the future. But we came to learn that Gase's coaching talents resembled more of a glorified offensive coordinator, which left players feelings ostracized and without a sense of direction – especially those on defense.
Like Philbin, Gase wanted a group of players that followed him, rather than developing a strategy that tailored to his players' strengths. He traded away (or failed to re-sign) productive players drafted by Grier in years past, just because he couldn't handle them.
After a 10-6 start to his coaching career (2016), we watched our hopes dwindle to 6-10 (2017) – accompanied with $10m worth of embarrassing Jay Cutler highlights – and then 7-9 (2018) after the "quarterback guru" couldn't get any production out of a 2019 Pro Bowl & AFC Championship quarterback in Ryan Tannehill.
Jay Cutler really sold his involvement in the Wildcat 😂 pic.twitter.com/WsjyRHyzoC

— NFL on ClutchPoints (@ClutchPointsNFL) October 1, 2017
Offensive visionary, but he couldn't see past his own shortcomings.
So Why is This Different?
This would be the definition of insanity….if it meant that we were following the same trend.
Yes, we understand the eternal caveat that we won't know for sure until we see the results, but after a successful 2019 – and a stellar 2020 draft that features plenty of starting potential – we're not going too far out on a limb to say that they have our trust.
Going into a vital 2020 NFL draft where the team held 3 first-round picks, the Miami Dolphins' future rested solely on the leis of Tua Tagovailoa. For months we were on edge, because, as Dolphins fans, we just figured they would screw it up. But once they secured their quarterback of the future, the plan was simple: protect him.
Not only was the plan to build a wall in front of him, but Grier and Flores identified that some of these positions take more time to develop than others. Rarely do offensive and defensive linemen jump right in and become dominant players. The difference between pancaking teenagers in college to moving a mountain-of-a-man in the NFL is colossal.
The 18th pick in April's draft turns 21 today! https://t.co/teEPyKtGSe

— Travis Wingfield (@WingfieldNFL) August 11, 2020
Rookies go through such a strenuous process to improve their draft stock – immediately after completing a full college season – that they are burned out by the time their rookie year is over. That's exactly what happened to Michael Deiter towards the end of last season; it's no surprise we see their performance start to slide after putting in so much work throughout the year.
Drafting Austin Jackson (18th-overall pick), Robert Hunt (39th), and Solomon Kindley (111th) means Miami is giving their rookies time to grow before being asked to protect their most-important asset since Dan Marino.
The Miami Dolphins have drafted a possibly transcendent QB, traded for an explosive, young, proven NFL RB, taken potential studs at LT and RT, added depth and strength to DL and interior OL and taken two talented, versatile DBs. How's your draft going?

— Joe Schad (@schadjoe) April 25, 2020
Instead of a trying to learn the nuances of the NFL with a rookie quarterback, they can learn how an offensive play is properly setup, executed and audibled under a veteran, Ryan Fitzpatrick.
When it comes time to protect Tua Tagovailoa in 2021, they won't have to worry if they understood the protection, if they'll make a rookie mistake, or if they'll naively and unintentionally do something embarrassing or costly. They'll be able to focus on executing the play properly, giving Tua an ample amount of time to handle his own "rookie" adjustments.
With Raekwon Davis, the Dolphins acquire another player at a position that tends to need some time to grow. This move makes me wonder what the future holds for Davon Godchaux, who is expected to receive a very nice payday in free agency after this season, but for now, Miami can rely heavily on Godchaux and their 2019 1st-round pick, Christian Wilkins. Davis has the opportunity to learn under these two as he prepares to take on a much bigger role in 2021.
With their final 1st-round pick, Miami selected another young player at a cornerstone position. The adjustments rookie cornerbacks need to make when guarding an NFL receiver are somewhat substantial, and Noah Igbinoghene will be able to learn and make these adjustments while covering the opponent's third or forth receiver – with the added security that he has an array of established and Pro Bowl veterans behind him.
This might hint at an ugly and somewhat inconsistent 2020 season, as roughly half of this roster is new to the team, but all of these young players will start to excel as Tua begins to transition into our full-time starting quarterback.
Which means the Miami Dolphins are ready to make a legitimate playoff run in 2021.
Is it possible all of these risks falter? Of course! Austin Jackson just turned 21 years old, and he wasn't viewed as the best left tackle in college last season – he is a projection. Noah Igbinoghene wasn't viewed as a 1st-round caliber cornerback, as most "experts" think he's restricted to covering the slot rather than becoming a boundary corner. And then you have the general, inevitable fact that some of these picks just won't pan out.
Austin Jackson is young. He needs time to develop his technique and his play strength. I don't think he's ready to start in the NFL right now. He's got the talent to develop into something special, but a bunch of these "high upside, raw technique" guys don't get better in the NFL

— Geoff Schwartz (@geoffschwartz) April 24, 2020
But we watched players like Mike Gesicki, DeVante Parker, Raekwon McMillan, Vince Biegel and Nik Needham take the "next step" under Brian Flores stewardship. It only makes us wonder who he'll coach up next.
Now that Flores is more-comfortable as a sophomore coach, and the team understands his "win no matter what" philosophy, Miami should naturally thrive in year two….right?
Like all of these other coaches before him, Flores is an absolute genius after year one. And like all those coaches before him, he's one season away from looking like a dunce.