Linebacker Prospect Primer Rounds 1-3
Picking up the Draft primers with the Linebackers for part two.  Let's go over a couple of factors with the LBs in the wide-9 scheme as this is another part that people don't seem to have a strong grasp of.
I.  This is a downhill, attacking scheme and you want your LBs to be able to attack and fill gaps quickly, especially against the run. The ability to cover sideline-to-sideline isn't imperative.
II.  Due to the alignment of the defense the outside linebackers in the wide-9 are actually going to play more like inside linebackers in a 3-4 package. This is because the defensive ends in the wide-9 are your edge players on the line of scrimmage.  After all, the 4-3 wide-9 concept was created by Jim Schwartz and Jim Washburn as a way to play with 3-4 principles while using 4-3 personnel groupings.  The OLBs in the wide-9 don't have to be the 6'3" 250lbs+ guys you see in a 4-3 Over/Under "SAM" linebacker or as an edge OLB in a 3-4.  You can get away with some smaller, quicker guys so long as they can fill gaps hard and fast and have enough "sand in the pants" to take on a TE or FB as a blocker.
III.  Most teams using the 4-3 wide-9 as their primary defense have a right and left outside linebackers rather than a strong and weak outside linebacker* as your adjustments come more with the defensive line as most defensive ends can play the wide-9 technique and the wide-5 (really a ghost 7) techniques and most defensive tackles can play both a 2i and 3 techniques.
IV.  The middle linebacker in the wide-9 is usually going to be a bigger, stronger more physical player. Think of players like Stephen Tulloch (5'11" 245lbs – not tall, but thickly built) or Brandon Spikes (6'2" 255lbs).  This is why Miami nabbed Raekwon McMillan in the second round of the 2017 Draft.  McMillan (6'2" 248lbs) is strong, physical and a solid technician as a tackler.  The exception to this rule is if you have a lighter player that is strong, BUT has elite quickness.  By nature of the alignment of the defense your MLB is going to be taking on either the center or a fullback/lead blocker, so that's why the size factor matters.  However, we've seen players like Jordan Hicks and Tahir Whitehead, who are a little smaller – 236lbs and 241lbs respectively – but possess elite quickness and speed, have success in the middle.  Miami tried this with Kiko Alonso in 2016 and got mixed results.
V.  In today's NFL, most defenses are going to be in a nickel or other sub package more than 66% of the time, so that third linebacker isn't as important as it once was. The "SAM" LB in a 4-3 is becoming a bit like the fullback on offense (i.e. going extinct).  What IS important is that you have two linebackers you feel comfortable with being on the field the majority of the time.  Ideally, I think you'd like to have one linebacker be a 3-down guy with another guy that's capable of playing 3 downs but can be subbed out if you go into a dime (6 DB) package.
*As it relates specifically to the Dolphins, one adjustment they've seemed to incorporate is playing more of a traditional Under look when they face two tight ends to the same side and/or an unbalanced line.  That's something that isn't "tradition" to the wide-9, but Miami is able to do that thanks to William Hayes' ability to play a tighter technique (usually a 5 or 6) as the closed defensive end.
Going into the Draft, I'd stack Miami's depth chart at LB to look something like:
RLB             Kiko Alonso                            Stephone Anthony
MLB            Raekwon McMillan               Chase Allen/Mike Hull
LLB/SLB    Chase Allen
I think just about every Dolfan knows that Miami made a mistake forgoing giving Kiko Alonso a 2nd Round RFA Tender after the 2016 season and opting to give him an extension instead.  Alonso shifted to outside linebacker (where he's better suited in this defense despite what a lot of Dolfans seem to think) and played well for the first 5 games of 2017.  He fell off after that second Jets game and was getting routinely worked in coverage assignments against both backs and tight ends by the end of the year.  Unfortunately, barring a trade, Miami is stuck with Alonso and his contract until after the 2018 season.  So, it would seem to be smart if they're able to find a linebacker and/or a dime package player that can take on some of those coverage responsibilities and render him as a one or two down backer.
It took Raekwon McMillan all of two practices to be named the starting middle linebacker.  Unfortunately, he tore his ACL covering a punt in preseason and missed all of last year.  I think he comes back this season and plays well as the middle linebacker in this defense.  Which is to say he's going to be a run-stopper from B gap to B gap, albeit I think he'll be better at it than Rey Maualuga was last year.  Plus, I think he gives you the opportunity to do some more things as far as blitzing and coverage assignments go.  He's not going to be Luke Kueuchly or Patrick Willis, but he's going to be a good player in this defense and I think he's got potential to become a 3-down LB with more experience.  Personally, I think it'd be a mistake to overload his plate with responsibilities in coverage right off the bat, but don't get me wrong, this is a smart player who will be a leader on defense.
The third spot I'd say currently belongs to Chase Allen who started one game at outside linebacker when Timmons went AWOL and several other games at middle linebacker when Rey Maualuga was released.  He's a solid player and an above average athlete, but I'm not sure he's a three-down guy; Miami should try to improve upon bot he and Kiko Alonso.  Allen would serve as nice depth.  I think he and Mike Hull give you two guys who can play special teams, and Stephone Anthony might offer something in the way of being a coverage specialist linebacker.  He was used in that capacity last season to take away some of Lawrence Timmons' snaps at the end of the season when Timmons simply looked old.  Counting on him to be a full-time starter would not be a wise option, but I think they'll let him compete.
Taking all of that into account, I think Miami's need at linebacker centers on this:  finding a guy who can be a 3-down player from day one, or take over for Kiko Alonso as a 3-down player in the not-too-distant future.  Ideally, I'd love to see Miami double-dip at LB in this Draft so they can flush Kiko Alonso and Stephone Anthony after 2018 barring some unexpected jump in play from both of those guys.
I'll list my targets at LB alphabetically by last-name in the categories of Round 1 Targets, Round 2-3 Targets, and Round 4+ Targets.
Round 1 Targets
Tremaine Edmunds – Virginia Tech – The former Hokie may actually fit best in terms of what Miami's looking for in terms of filling gaps and playing downhill.  At 6'5" 253lbs he certainly fits the size prototype that Miami's always seemingly looking for, even though I think you can get away with not hitting prototypical size at the OLB spots in this defense.  I think one thing a lot of people ding Edmunds for is that he takes false-steps and doesn't trust his keys.  I think that's more a product of Bud Foster's defense than it is Edmunds being slow to recognize what's going on.
The real ding is that I'm not sure he's as well-versed in coverage as you'd like.  You can see him show off some examples of being able to turn and run with smaller, athletic players:
But, if you look closely at that GIF, you see he's late to get his head around.  You do that against a bigger target like a Rob Gronkowski or Travis Kelce with an NFL caliber QB throwing the ball and that's either a completion or defensive pass interference.  I think that's an element of his game that's going to take more time to coach into him whereas someone like Anthony Barr is more of a natural player in coverage.
Where Edmunds is going to make his money is by attacking downhill and making tackles. I couldn't find a good GIF of him attacking downhill immediately from an alignment close to where he'd be playing for Miami, so you'll have to excuse that.  However, in this one, he's able to follow the offensive linemen laterally as they try and setup for the outside zone play.  Once he sees daylight in front of him he attacks and makes the tackle for a 4-yard loss despite the back trying to make a cutback inside.  Of the guys available in my Round 1 Targets he's my second favorite.
Rashaan Evans – Alabama – Rashaan is my favorite OLB target for the Dolphins.  Most boards I've seen have him as a late-1st or early-2nd round pick.  I'd be surprised if Miami took him at 11; that'd be a shocking move like when Seattle picked Bruce Irvin in round one.  However, despite the perceived "reach" in value, I'd think it'd be a great pick.  That said, I think he's a target if Miami trades down in the first or, if they get really, really lucky and he's sitting on the board at pick 42.
The best part of Evans' game is his speed.  He's fast.  And at 6'3" 234lbs, he's still really damn strong, which is what you'd look for in a wide-9 outside linebacker.  He chews up ground really quick in this clip for a sack. He's a sure tackler who packs some pop when he stays squared up.  Take a look at this hit against LSU stopping the TE shovel pass.
Here's a great clip from Jon Ledyard's Twitter Feed of Rashaan getting inside the RT and making a stop shy of the first down marker.  He's got some really nice hitting power.  Jon Ledyard has a bunch of other great Rashaan Evans clips in his feed as well.
Rashaan Evans is a monster. Why hitting power matters 101 pic.twitter.com/aU1SHyu0eM

— Jon Ledyard (@LedyardNFLDraft) March 8, 2018
I think the one ding you give Evans is that he doesn't always have the quick trigger.  But, when he sees it, he can close in a hurry.  He also gives you some flexibility as a blitzer and possesses some edge-rush capability.  I think that plays into things when you see Miami run an Under front against twin-TE and unbalanced line packages.
Roquan Smith – Georgia – Stay with me here.  I think Roquan Smith is probably the most talented linebacker out of all of these potential targets.  That includes being the most talented between the three of he, Edmunds and Evans.  However, of those three, his fit in this defense is the most dicey.  Now, he's bulked up a bit from the 6'1" 225lbs product he was during the college season.  He weighed in at 6'1" 236lbs at the NFL Combine, heavier than Rashaan Evans.  The reason he's the worst fit of the three for Miami is that he had the benefit of playing behind a truncated 3-man front that protected him and allowed him to move laterally without taking on blockers.  You just don't see him attack downhill and take on a blocker head-up the way you do with Edmunds, and especially Evans.  It's just not there.
With that in mind, I'd be SHOCKED if Miami drafted Smith with the idea of playing him as a MLB.  It just doesn't make sense, but it's a notion I've seen a lot of Dolfans talk about.  It just doesn't jive.  What I think is more likely is that they would try to 1) keep him on the weakside and move Kiko Alonso back to the middle and play Raekwon McMillan at the other outside spot where Lawrence Timmons played in 2017.  I don't like that as you're mucking up two positions for the sake of one.  I think 2) playing Smith where Lawrence Timmons played is more likely, but it's also risky.
Again, I like Smith as a player, but I think he carries a higher risk for Miami's defense than he would another team.  That's just how it is as Adam Gase and Matt Burke seem committed to running the wide-9.  I think there's merit behind that choice.  More on that later this offseason.
Now, that's not to say Smith would be a terrible fit in this defense.  Here you can see him timing the snap and shirking the left guard to get in on a tackle with relative ease.
This would be what he'd be tasked with doing in Miami snap after snap against the run. The question is can he hold up doing that? That film is lacking, so that's a projection you'd have to make.  Here's an example of him not attacking the hole right off the bat and "waiting" to jump into the fray.  In Miami's defense, he's going to have to attack downhill more quickly.  You see the Patriots run this play frequently as well as other teams, including Miami.  The TE blocking to the backside shouldn't make Smith hop around as much as it does.
Where Smith excels is using his speed an athleticism to be a rangy player.  He's actually a step late in covering the back on this play, but still he mows him down with his speed and ability to chew up turf.  You'd like to see him break down a little more, but this is a damn good play.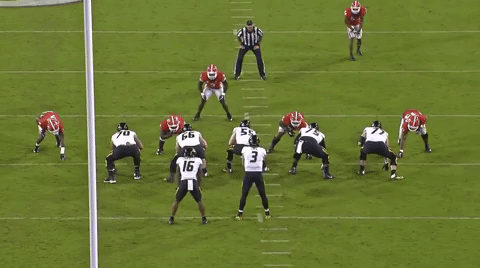 Here you can see Smith's ability in coverage.  This may look like a simple play, but it's something that plagued Miami as Kiko Alonso and Lawrence Timmons couldn't make this play routinely.  Smith stays home and reads the cross-action with the fake handoff, picks up his man and stays with him stride for stride and stops him for no gain.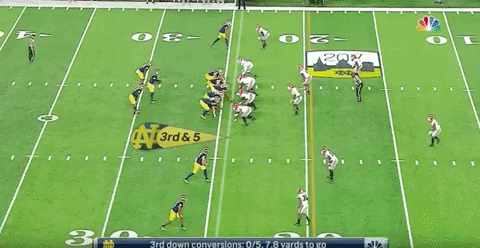 To close the brief on Smith, I think he's a fantastic player and he could solve a lot of issues for Miami in terms of coverage woes.  But, you're going to have to coach him up to be a fit in this defense in terms of making the proper run fits and attacking downhill.  To me, that carries risk at pick 11.  But, that risk could very well pay off with Smith's speed and coverage abilities.
Round 2 – 3 Targets
Jerome Baker – Ohio State – Baker is a guy you wanted to see more from as a junior and he may have benefited greatly from staying in Columbus another year.  He's 6'1" 229lbs but he's a more physical player than Roquan Smith in my opinion.  The problem is that he's a bit lazy.  The hustle factor isn't always there for him.
Baker, like Smith, is a fast athlete and when he sees the play, he can move in a hurry and is a pretty solid tackler.  He's got the burst to run right by the RG trying to wall him off and makes the stop for a 3-yard loss.
Here he blows right by the blocker on the swing pass and makes a nice stop for a loss on the RB.
While he does have coverage ability, he does have a tendency to get lost in space at times.  Here, he has good leverage on the receiver but peaks in the backfield and doesn't stay in stride with the wheel route.  A better throw and this is a touchdown.
And, of course being as slight of frame as Baker is, you always run the risk of getting washed in the run game.
Bottom line, Baker's a guy that probably ends up being there in the 3rd round.  I think there are elements of his game that are worth trying to develop, but you can see the warts in his game just about every time you watch him play.
Malik Jefferson – Texas – Jefferson's a height-weight-speed guy for me.  He's 6'3" 236lbs, and could probably put on more, and ran a 4.52.  His weakness is reading and diagnosing plays.  Now, Texas' defense was pretty bad all around, and I'm not a fan of their scheme, so that may have something to do with hit.  I like the athleticism and think that might give Miami something to work with if they're interested in Jefferson.
Here he actually blows through two blockers and overruns the back.  Still, he messes up the play enough so that the help arrives and still finishes the play stopping the back for a loss.
Here you see the opposite.  Will Hernandez, the UTEP LG, pancakes his defender giving Jefferson a plain, open-window read.  The weird thing about this is while he's dropping back pre-snap to maintain his coverage responsibility, he never looks away from the backfield, but still doesn't trigger and attack the play.
Here's another example of Jefferson improperly reading the play allowing himself to get blocked.
I do like Jefferson's potential in coverage.  He's fast enough to stay with some of the more dangerous tight ends you're going to see in the league.  Here, I like how he undercuts the post route knowing he's got a robber in the area.  This clip is from his freshman year, and you can see he opens his hips a little early, but I like the general awareness and abilities on this play.
When Jefferson gets it right though, he closes with speed and authority.  I really like his potential, and he's one of the few LBs whose reads are similar to what he'd be seeing as a Dolphin.  There's work to be done here, but I like the overall package so long as you can coach him up well.
Fred Warner – BYU – Warner is a player that I think will get drafted higher than where he's listed on most draft boards.  He played OLB in BYU's 3-4 defense, but he looks like a big strong safety.  He even plays like a safety at times notching six interceptions as a Cougar.  He's got a nice ability to read the plays and jumps routes aggressively.
Here you can see him split through two blockers and show some decent burst to make a TFL.
He does have some experience playing coverage responsibilities from the slot, which could be appealing to Miami given his length at 6'3".  He checked in at 227lbs, smaller than Evans, Jefferson and Smith, so that may be a bit concerning to Miami.  At the Senior Bowl he played inside and Fran Duffy, of the Philadelphia Eagles website, gives a great breakdown of him here:
In particular, this play is something that's going to intrigue the Dolphins.  He's lined up as an off the ball LB (keep in mind, he was a 3-4 OLB) and diagnoses the inside zone and snuffs it out quickly.
Warner is a guy that might have to start off as a coverage specialist LB, but could work his way into starting LB with some time.  I think you also have to see what he does in terms of putting on more muscle with a full season in an NFL strength program.  But, Warner is a guy that I like quite a bit for Miami's needs.
Click here to see the prospects in rounds 4+:
Miami Dolphins' Jones and Howard land in top 10 CB rankings
MIAMI (Locked On Dolphins) – On Tuesday night, CBS Sports HQ revealed its power rankings for the best cornerbacks in the NFL.
And in their top 10 rankings, the Miami Dolphins landed two players: Xavien Howard and Byron Jones.
The rankings were created by Patrik Walker through the CBS Sports HQ Twitter account and are indicative of where Walker sees the league's top corners as they enter the 2020 season.
Jones came in at six, and Howard landed at eight.
Howard was shut down for the most part in 2019 but saw his first Pro Bowl after the 2018 season, where he caught seven interceptions, tying for the most. Howard is going into his fifth year, all with the Dolphins.
Howard was selected in the second round of the 2016 NFL Draft.
Byron Jones joined the Miami Dolphins earlier in 2020 after signing a five-year, $82.5 million contract and is slated to start across from Howard.
Jones is going into his sixth year in the NFL after originally being selected by the Dallas Cowboys in the first round of the 2015 Draft, 27 overall.
Regardless of their positional rankings, there will be high expectations for the cornerback tandem as they are projected to be the starters and already have a proven track record in the NFL.
Top 10 Cornerbacks in the NFL
(According to @VoiceOfTheStar)

1. Stephon Gilmore
2. Marcus Peters
3. Joe Haden
4. Jalen Ramsey
5. Patrick Peterson
6. Byron Jones
7. Tre'Davious White
8. Xavien Howard
9. Chris Harris Jr.
10. Marshon Lattimore pic.twitter.com/YGgDJ40S2P

— CBS Sports HQ (@CBSSportsHQ) June 23, 2020
Are the Dolphins Done Reshaping the Roster for 2020?
Unless you've been in the deepest of quarantines by now you've familiarized yourself with Miami's offseason moves. The Dolphins brought in 12 free agents, 11 draft picks, traded for a running back, and signed 10 undrafted free agents. That's 34 new names on the 90 man roster as we [hopefully] gear up for training camp in a month and a half.  Despite all the moves, Miami currently has four roster spots open. That's 86 spots, not counting Durval Queiroz Neto, who is roster exempt, so the question has to be asked: Are they done for now?
We all know that changes will happen in camp. There could be a surprised UDFA or two that makes the roster. Someone could, and likely will, get injured to free up a spot. But, for right *NOW* are the Dolphins done?
I tend not to think so. So who might they be after? I don't have any inside information, but from what media information we know, and some of my own speculation, I've got four names I suspect Miami might be onto. Two big fish and two guys that might be a little more under the radar.
Logan Ryan
The biggest name thus far Miami has been linked to is former Titans and Patriots Cornerback Logan Ryan. Sports Illustrated's Alain Poupart had this story on May 14th.
https://www.si.com/nfl/dolphins/news/the-latest-on-the-status-of-logan-ryan-and-the-miami-dolphins-interest
Aside from the obvious connection to Dolphins Head Coach Brian Flores, Logan Ryan checks a lot of boxes Miami's looked for this offseason.  Ryan's a smart, team-first guy. He's got position flexibility – able to play on the perimeter or in the slot and he already knows Miami's defensive system.
But, corners in this league are expensive. It appears that Logan Ryan wants a one-year "prove it" deal. He's betting on himself and cited Titans QB Ryan Tannehill as one of the reasons why. And per the Miami Herald, Logan Ryan's agents have told the Dolphins he wants $10M or more for a year. That's pricey, but Logan Ryan might be worth it; let's take a look.
In this first clip, you can't see him at the snap, but he'll come in from the slot on the offense's left side and isn't afraid to stick his nose in against the run and stops Nick Chubb for a short gain.
Ryan run stop. pic.twitter.com/1SA2kce2R0

— Kevin Dern (@KevinMD4) May 19, 2020
Later in the same game, he gets a sack on Baker Mayfield (Yes, this play was ruled a sack). Ryan will come in from the right side of the screen, again the offense's left, on a slot blitz. He gets blocked but is able to redirect and chases Baker Mayfield down for the sack.
Ryan sack pic.twitter.com/pfT5FxNCRa

— Kevin Dern (@KevinMD4) May 19, 2020
Finally, in this clip, he plays press man against T.Y. Hilton from the slot. That's a valuable skill Miami will like. Hilton's going to try and break outside, but Logan Ryan reads the play, and showcases a nice burst to secure the pick.
Ryan INT pic.twitter.com/V2UdARqNJK

— Kevin Dern (@KevinMD4) May 19, 2020
Ultimately, signing Logan Ryan gives Miami a proven slot player who can also play man coverage on the perimeter, allowing Miami to matchup their defense however they please. He'd also gives them a buffer from having to having to give Noah Igbinoghene a ton of snaps right off the bat, if they so desire. At worst, you could spoon feed Igbinoghene at first until he's grasped his role, then you can increase his snaps. And with Ryan looking for a one year deal, that might be amenable to all parties.
Larry Warford
It's not too often at this stage of the offseason there's a 29 year old (turns 29 on June 18th), three-time Pro Bowl guard is available. But that's just what Larry Warford is. Saints Coach Sean Payton once said that he likes his guards to "have mass and ass" in order to keep a clean, firm middle of the pocket for Drew Brees to operate. Well, if there's one rookie quarterback this year that is built like and operates like Drew Brees, it's Tua Tagovailoa. And, between you and me, I think Tua's going to end up playing a lot sooner than people think.
What adding Larry Warford would likely do for Miami is solidify four of the five starting offensive line spots. If Miami signed him, I think it's safe to assume Miami would have (from left to right) Austin Jackson, Ereck Flowers, Ted Karras, Larry Warford, and a battle between Jesse Davis and Robert Hunt. That's a battle that Miami likely would want Hunt to win, as you can keep Jesse Davis as a swing tackle and guard. It would also allow them to bring Solomon Kindley along slowly. I didn't watch it, but have heard that either Flores and/or Grier compared Kindley to Shaq Mason, who was a project that the Patriots brought along because he didn't have much pass-blocking experience coming from Georgia Tech's option offense. Well, with Kindley it gives you a chance to hone his game in total for a year or two while getting a veteran who walks in the door the best lineman the Dolphins would have.
Three quick clips of Larry Warford for you coming up.
First, we'll see Warford and RT Ryan Ramczyk block up a T-E game. The DT is going to go outside and J.J. Watt comes inside to Warford. They switch it with relative ease and Warford is so big that J.J. Watt can't generate a pop to knock Warford back and collapse the pocket.
Warford T-E pic.twitter.com/4Tc9RvvIPB

— Kevin Dern (@KevinMD4) May 19, 2020
Next, and this one is quick. It's a jet sweep to Kamara going the other way, but look at Larry throwing bodies out the club! That kind of punch is something Miami haven't had in a guard since Richie Incognito was in town.
Warford punch pic.twitter.com/A41O8tJxWN

— Kevin Dern (@KevinMD4) May 19, 2020
Finally, we see a rep against DT D.J. Reader, who got paid this offseason. Reader's listed at 347lbs, and someone that large shouldn't be moved that easily.
Warford vs Reader pic.twitter.com/yNqfsbH8qv

— Kevin Dern (@KevinMD4) May 19, 2020
Warford gives you size, smarts and strength inside. And, if Miami are going to possibly have a rookie RT in Robert Hunt, that kind of veteran presence can help bring him up to speed quickly. For my money, I'd sign Larry Warford over Logan Ryan since Miami's Defensive Staff seemed to be able to bring in DBs off the street and get them up to speed enough to start in the same week. Kudos to Josh Boyer for that, but I think there's more value in bringing in Warford now, and possibly for the next two or three years, than there is for Logan Ryan on a one year deal.
That said, both players would make the Dolphins better and I'm not opposed to Logan Ryan by any means.
Damon Harrison
Okay, so you've probably heard of "Snacks" Harrison before. But did you realize he was still out there as a free agent? Kudos if you did. Miami signing "Snacks" doesn't seem like it'd be in the cards. Harrison is 31 years old, had a tough year last year with injuries in Detroit to the point he contemplated retirement, but hear me out.
Wind the clock back to 2018 when Brian Flores was calling the Patriots Defense. Same defense Miami's running now. The Patriots had over 1,000 total snaps on defense that year. Danny Shelton played just 31% of them, with 324 total snaps. NT in this defense is a part-time position.
That year the Patriots gave out the following snaps to interior defensive linemen:
Malcom Brown – 456 (43.7%)
Lawrence Guy – 519 (49.8%)
Adam Butler – 379 (36.3%)
Danny Shelton – 324 (31.1%)
With Miami's drafting of Raekwon Davis, you sort of assume he and Godchaux are going to take on the roles of Malcom Brown and Danny Shelton. Christian Wilkins takes on the role of Lawrence Guy, and perhaps Raekwon Davis takes some of those snaps as well to keep him fresh. As of now, I'd expect Zach Sieler to take on Adam Butler's workload, which was a rotational DT and someone who can be used on passing downs; Sieler has more skill there than Godchaux or Davis in my opinion.
But what if Miami were able to bring in "Snacks" Harrison to take on that NT role? It'd allow you to give Davis more focused snaps and let him use some of his upfield ability to help spell Godchaux and take on that Adam Butler role. It might mean the end for Zach Sieler in Miami, who is on an Exclusive Rights Free Agent Tender for this year. No harm if you move on.
So what would snacks bring to the table? First, like Logan Ryan, he knows the system to some degree having played under Matt Patricia in Detroit. There may be some differences here an there, but he can pick that up, and it's a specialized role. Two, he's a proven run-stopper. Even last year with the Lions with all his injuries he was still effective. Let's take a look.
Here's a back-to-back play sequence against the Eagles in Week 3.
First, Harrison's actually lined up at 3-technique against Brandon Brooks, one of the most underrated players in the NFL. "Snacks" will never confuse for Aaron Donald and he doesn't muster much of a rush, but he stays with the play and gets his hand up to deflect Carson Wentz's pass.
Snacks PD pic.twitter.com/BrqmfSBOA8

— Kevin Dern (@KevinMD4) May 19, 2020
The very next play is what he does best. Lined up as a true NT, he ushers Jason Kelce away with one arm, plays down the line horizontally and stops Miles Sanders for no gain. That's what you like to see out of someone who is 6'3" and 350lbs.
Snacks run stop pic.twitter.com/zcMLwFdKIf

— Kevin Dern (@KevinMD4) May 19, 2020
Against the Packers you'll see him as a 3-technique again and he defeats a double-team by Billy Turner and Bryan Bulaga and makes a run stop on Aaron Jones.
Snacks stop 2 pic.twitter.com/Fred4Xmwd5

— Kevin Dern (@KevinMD4) May 19, 2020
The final clip for "Snacks" comes when he gets a sack of Aaron Rodgers later in that same game. He's going to work off a double-team by Billy Turner and Corey Linsley, gets around it, and though he's out of his pass rush lane he keeps working and dumps Rodgers for a sack.
Snacks sack pic.twitter.com/2o0pH7KURr

— Kevin Dern (@KevinMD4) May 19, 2020
The knocks against "Snacks" are that he's older than every player on the Dolphins roster save for Ryan Fitzpatrick. He battled through injuries, contemplated retirement and told ESPN that he was "hell-bent" on getting out of Detroit. Did he not like the system? The coaches? How does that parlay into Miami if he signs here considering Flores and Patricia's backgrounds intertwine in Foxboro? While I think this signing might be more unlikely than both Logan Ryan and Larry Warford, it wouldn't shock me given Miami's defensive scheme and the players that Brian Flores has traditionally seen in that role.
Mike Weber
Going a little off the beaten path here. The Chiefs waived Mike Weber, who was a seventh round draft pick for the Dallas Cowboys in 2018. Weber rushed for 1,000+ yards as a redshirt freshman at Ohio State, replacing Ezekiel Elliott. An injury in summer workouts the next year opened the door and J.K. Dobbins passed him on the depth chart, but Weber still rushed for 626 yards and 10 TDs that year. He tallied nearly 1,100 yards and nine more TDs as Dobbins backup in 2018, and declared for the Draft.
Going to Dallas, Weber wasn't going to get much of a shot behind Ezekiel Elliott, especially after Elliott's contract extension. He also was beaten out by Tony Pollard in 2019 for the backup job. Weber spent time with the Chiefs on their practice squad during their Super Bowl Run.
Weber has yet to collect a carry in the NFL during the Regular Season, so I don't have clips for you here. My rationale for Miami possibly being interested in Weber is that Miami had a strong interest in J.K. Dobbins during the Draft this year. Weber played in that same offense at Ohio State and put up big numbers as well. In my opinion, he was more physical as a runner, but lacked the explosiveness. He goes 5'10" 210lbs, so he's bridging the gap in size between Jordan Howard and Matt Breida.
Kalen Ballage hasn't proven very effective doing much of anything. Patrick Laird is a nice story, but is probably best served by playing on special teams. We didn't see much of Myles Gaskin in 2019, save for the Bengals game in Week 16, so he's still a bit of an unknown. With four open roster spots, what's the harm in bringing in Weber for a look?
We'll see what Miami does, and they could very well opt to do nothing. But Logan Ryan, Larry Warford, Damon Harrison, are three guys I think they ought to consider. Each of the three, in my opinion, makes the position group on the Dolphins better they moment they walk in the door. Mike Weber would be more of a reclamation project, but I like his odds of competing against Kalen Ballage, Patrick Laird, and Myles Gaskin for a potential roster spot.
Stay safe and FinsUp!
Setting the Edge: Miami's New Additions Up Front
It's no secret that Miami's defense was bad last year. The Dolphins ranked 32nd in the league in points allowed, mostly due to giving up 102 points in the first two games alone. Their run defense, which was an eyesore under Vance Joseph and Matt Burke during the Adam Gase tenure remained problematic in Brian Flores's first year. Miami gave up 135.4 yards per game, 27th in the league, and 4.2 yards per carry, 22nd in the league. Not good.
Miami's pass defense wasn't sterling by any means. Injuries to Xavien Howard, Reshad Jones and Bobby McCain hurt. Trading away Minkah Fitzpatrick didn't help. But I think we all can appreciate that Miami's passing defense progressed throughout the year despite having to field a secondary that consisted of: Eric Rowe playing two positions, Nik Needham, Ryan Lewis, Ken Webster, Tae Hayes, Nate Brooks, Adrian Colbert, Walt Aikens, and Montre Hartage at various points.
The Dolphins will have a hopefully healthy Xavien Howard and Bobby McCain back. They signed the premier free agent corner in Byron Jones, drafted Noah Igbinoghene in the first round and drafted Brandon Jones in the third. They also signed safeties Clayton Fejedelem and Kavon Frazier, who have some starting experience in the past with Cincinnati and Dallas respectively. Things are pointing up more solidly in the back end of the defense.
But what about the additions to the front?
The interior players from last season remain largely intact with Davon Godchaux, Christian Wilkins, Jerome Baker, and Raekwon McMillan all returning. Zach Sieler only played in three games but looks promising and his Week 16 performance against the Bengals was arguably the best game for a Miami defensive lineman since Cameron Wake was still on the roster. Kyle Van Noy will likely play a good chunk of his snaps off the ball, as he did under Brian Flores in 2018. Elandon Roberts will at the very least be good depth up the middle.
And the edges of the defense?
First, I think it's important to distinguish that Miami uses both defensive ends and outside linebackers as edge defenders in different formations. So, to label them all as EDGE players, as seems to be common practice these days, is a bit misleading as it relates to the Dolphins defense. My purpose for this article is to breakdown how the Dolphins got better on the edges this offseason and what we can expect from them in 2020.  Here's whose on the roster right now:
Defensive Ends
Shaq Lawson
Avery Moss
Emmanuel Ogbah
Jason Strowbridge
Curtis Weaver
*Emmanuel Ogbah, Jason Strowbridge and Shaq Lawson all can play tighter techniques to the ball when called upon (ex: 3, 4i, 4 and in some cases 0).
Outside Linebackers
Vince Biegel
Trent Harris
Andrew Van Ginkel
Kyle Van Noy
*Kyle Van Noy will very likely see snaps off-the-ball as a traditional ILB in addition to edge reps as an OLB. Biegel and Van Ginkel will also get snaps as stand-up DEs (ex: standup 5 or 6 tech in a 3-3-5 Bear front)
If you've read my articles on LockedOn before, you'll know that I believe we'll see Brian Flores defense really take shape this year. When Flores ran the Patriots defense in 2018, his most used formations were the 4-2-5 (307 snaps), 3-3-5 (226 snaps), 3-2-6 (132 snaps), and 4-3 (97 snaps). Last year's use of the 3-4 I think was more built out of necessity. Miami's edge players were bad at setting the edge, and with their ever-changing personnel I think Patrick Graham used more 3-4 looks because it was easier to coordinate. I think this year, with the improved personnel, we'll see more of what Brian Flores was running in New England in 2018.
One note to consider is that prior to the bye week, we saw more examples of the 4-2-5 and 3-3-5 formations, often with the same personnel. Below are several screenshots from Miami's games in Weeks 1-3.
Standard 4-2-5
DL:  Moss, Godchaux, Wilkins Harris
LB:  Baker, Eguavoen
3-3-5 formation with 4-2-5 personnel
D-line: Moss, Godchaux, Wilkins, Charlton (OLB)
LBs: Baker, Eguavoen
3-2-6 formation with three DEs (Ruby)
D-line: Biegel, C. Harris, Moss
LBs: Baker, Eguavoen
4-3 Over
D-line: Moss, Wilkins, Godchaux, C. Harris
LBs: Eguavoen, McMillan, Baker
* Note Miami will play under and even looks out of 4-3 personnel.
Let's get one thing straight. Miami's defense is very multiple. They will play these formations with non-traditional personnel. For example, if we go back to 2018 when Brian Flores was calling the Patriots Defense, watch their Sunday Night Game against the Packers. New England opens that game with 4-2-5 personnel but using three DEs in the grouping. They used Trey Flowers as a 3-technique on 1st and 2nd downs that drive. Miami will do similar things, for instance, they had Taco Charlton line up as an OLB in their 3-3-5 look seen above.
My gut feeling is that this year, Miami's defense will more closely resemble the 2018 Patriots in terms of what they deploy, both in formations and in personnel packages, than it will resemble anything Miami ran last year post-bye week.
For a more in-depth look at that, I'll reference you to this piece I wrote in February of 2019 shortly after Brian Flores was hired. Inside the Film Room.
The remainder of this piece will cover the following additions Miami made this offseason and how they will fit: Emmanuel Ogbah, Shaq Lawson, Kyle Van Noy, Jason Strowbridge, and Curtis Weaver.
As a whole, this group should give Miami much improve ability up front on the edges of the defense. Primarily, Ogbah, Lawson, Van Noy and Strowbridge should provide an immediate shot in the arm for the run defense. The first three and Curtis Weaver should all prove to be better pass-rushers than anyone Miami deployed on the edge last year, be it a DE or OLB.
Emmanuel Ogbah
First things first about Ogbah. He's big. And he's long. At 6'4" 275lbs he's got 35.5" arms and 10" hands. He's got power and some explosiveness – 35.5" vert and 121" broad jumps. These are things to note about him. Ogbah was having a really nice year with the Chiefs notching 5.5 sacks before an injury cut short his 2019 campaign. He uses that length and power really well to set the edge against the run, and those long arms have come in handy as he's got 20 career deflected passes.
In this first clip, you'll see Ogbah (#90) at LDE for the Chiefs. His play recognition here is excellent as he feels the tackle release to setup for a screen. Ogbah slows his rush immediately and looks to get into the pass lane. The Jaguars had a double screen called and Foles goes the opposite way.
Ogbah 1 pic.twitter.com/GZtjKLU7EO

— Kevin Dern (@KevinMD4) May 11, 2020
Clip number two shows Ogbah's ability to affect the passing lanes. His rush against Ronnie Stanley seems a bit off, and I think this may have been a game-planned spy attempt as the Chiefs blitz a corner from that side. If it's not, then Ogbah has good recognition to stop his rush and drop into the passing lane and get his hands up to deflect Lamar Jackson's pass for an incompletion.
Ogbah 2 pic.twitter.com/urE7sgEYsC

— Kevin Dern (@KevinMD4) May 11, 2020
Against the Packers, Ogbah showcases his length and speed in this pass-rush. He uses his long arms well to engage Bryan Bulaga in a bull-rush move. He's able to start to turn the corner and executes a rip move to free himself and sack Aaron Rodgers.
Ogbah Sack pic.twitter.com/bXMtpwdkNo

— Kevin Dern (@KevinMD4) May 11, 2020
In our final clip of Emmanuel Ogbah, we'll see him against the Vikings. Here he's able to set a hard edge against LT Riley Rieff and he's able to get upfield enough to force Dalvin Cook to cut inside into traffic where he's stopped for a short gain.
Ogbah edge set pic.twitter.com/5h0lg2d1RD

— Kevin Dern (@KevinMD4) May 11, 2020
Overall, Ogbah's a guy that is going to set a hard edge and has some pass-rush ability. While I get that Dolfans may be upset that 91 isn't "retired" the way 54 and 99 are, I think it's fitting as he'll be deployed like how the Patriots deployed their #91 Deatrich Wise. Ogbah can play on the edge all three downs. He's long enough and strong enough to play tighter techniques inside. There are a number of reps of him at a 4i-technique being able to stop the run. It wouldn't surprise me if Miami tries to utilize him as an inside rusher on 3rd downs, much like the Patriots did with Wise. The plus for Ogbah is that he's a better athlete. He'll be able to collect some wins as a pass-rusher from 6, 7 and 9 technique looks on 1st and 2nd downs in addition to setting the edge against the run.
Shaq Lawson
Another player coached by Marion Hobby here. Shaq is a player that's had an odd start to his career. Drafted by the Rex Ryan coached Bills, he wasn't a super scheme fit there and dealt with some injuries. Starting only 17 career games, none in 2019, Lawson carved out a nice niche for himself in the rotation-happy Bills D-line last year. My thought is that he is going to get opportunities to replicate some of the looks that Trey Flowers did for the Patriots and continues to be put in with the Lions, coached by Matt Patricia, who runs another Patriot-styled scheme.
Our first clip of Shaq is against the Dolphins in Week 11. He's going to be lined up outside RT Jesse Davis in what you'd call a wide-5 technique. Lawson's a bit slow off the snap, but he's able to make himself small and is able to cross Jesse Davis's face with a quick swipe move and makes a tackle for no gain.
Shaq pic.twitter.com/CYDynFHkal

— Kevin Dern (@KevinMD4) May 11, 2020
The second clip isn't necessarily a great pass-rush rep, but the reason I want to showcase it is because of where Lawson's aligned. He's in a 3-technique look against RG Evan Boehm. Lawson does a nice job hand-fighting with Boehm, eventually getting free inside despite giving up more than 50lbs to Boehm. This is important because Miami incorporates a lot of the 3-3-5 looks and 3-2-6 looks in passing situations that necessitate DEs being able to play inside. A lot of the pass-rush games, which we'll see when I talk about Kyle Van Noy, come from a wider edge player coming around into the backside A or B gap. Lawson's ability to get push in the pocket here is key in executing those games, and in this rep he's able to get in Fitzpatrick's face to help force an incompletion.
Shaq 2 pic.twitter.com/N6132XUdM2

— Kevin Dern (@KevinMD4) May 11, 2020
We'll move to Buffalo's week 12 matchup against the Broncos for our next rep. Part of the pass-rush games that is so important in this defense it the ability for players to be able to rush inside and get into A and B gaps. Here Lawson is lined up in a 4-technique over Broncos LT Garrett Boles. He gets a good jump on the snap and is able to cross into the backside A gap, beating the LG across his face to get middle pressure and a sack against Brandon Allen.
Shaq sack pic.twitter.com/OZMaLRHljZ

— Kevin Dern (@KevinMD4) May 11, 2020
Our final clip of Shaq Lawson comes from the Bills vs. Patriots Game in Week 16. You probably already know what it is. Lawson's lined up in a 5-technique and reads the fake jet sweep play and is able to stop Sony Michel for a big loss. He's able to fight inside of the double-team block by the LT and WR from a nasty split. This shows Lawson's get-off and is play recognition skill. He makes a great play tracking this down from inside. At worst, even if he misses the tackle, he's mucked the play long enough for the CB to be able to force this back inside where it's going to get a very minimal gain if anything.
Shaq TFL pic.twitter.com/nppH8gsyI5

— Kevin Dern (@KevinMD4) May 11, 2020
Overall, I think Emmanuel Ogbah might end up being the better of the two DEs signed for Miami. Especially at the start. But I think there's more to unlock with Shaq Lawson. If Marion Hobby can get him to work on his explosiveness of the snap and getting that more consistent, that will go a long way toward helping him. He's a strong end capable of lining up in tight techniques like 3, 4i and 4. He's shown ability to rush interior gaps, and that ability may lend itself to doing some, let's say unique, things that Trey Flowers got to do with the Patriots, like playing a 0-technique in some of their LB heavy nickel looks and in their "playground"/radar defense. While I'm not sure Lawson will get looks like that off the bat, I think that's something feasible down the road a bit if he can make his get-off more consistent and continue to develop his hand fighting abilities.
Kyle Van Noy
The Dolphins had to, HAD TO get better on the edges of the defense. Case in point they signed two DEs and drafted two more. Brian Flores spoke after the Draft about how players not filling the stat sheet doesn't mean they had a bad game.  I believe that was in reference to Miami drafting Raekwon Davis. But it could be applied to Kyle Van Noy.
Van Noy may be the most important free agent signing and his impact will likely be rivaled only by Byron Jones for the hidden benefits they bring to the defense.  Why do I say this? It's because of the many different things Brian Flores and Josh Boyer will be able to do on defense because of Van Noy.
First, he's able to play ILB, and play it quite well. He can do this in 4-2-5 looks where he's paired with someone. He can do it in 3-3-5 looks where he's the guy.
Here you can see him lined up behind Adam Butler in a 3-3-5 look. The interesting thing to note here is that the Patriots had 4-2-5 personnel on the field with Deatrich Wise, Butler and Adrian Clayborn up front. They used Trey Flowers as an OLB in this look opposite Dont'a Hightower.
You want him to rush off the edge? No problem. Here in this GIF you can see the Patriots "playground" defense. Van Noy will be on the left side and rushes outside the left tackle.
— Travis Wingfield (@WingfieldNFL) February 18, 2019
In this clip against Dallas from 2019, we'll see the Patriots in a 2-4-5 look (which is a 4-man front, but with OLBs instead of DEs. Miami rain this a lot against Philly and in Week 17 against the Patriots last year). Jason Witten shifts over to Van Noy's side and Kyle is able use his arms, get extension and maintain good leverage to set the edge and help with the tackle as other defenders arrive to make the stop. Textbook!
KVN edge set pic.twitter.com/i3xEDC8pVv

— Kevin Dern (@KevinMD4) May 11, 2020
Going back in time to 2018 against the Vikings, I want to give you two plays that were back-to-back in the game. First, we see Van Noy lined up over the RT. At the snap he's going to drop into the short middle and read Kirk Cousins. He follows Cousins' eyes to TE Kyle Rudolph and Van Noy just sits down in the zone right in front of him and Adam Butler gets a sack. That's a hidden play there because Rudolph was open until Van Noy flowed that way.
KVN coverage pic.twitter.com/c0K7kRQlqG

— Kevin Dern (@KevinMD4) May 11, 2020
But the real treat to Van Noy's game is his prowess with pass-rush games. This is the very next play. The Patriots are in their 3-2-6 look, Diamond, but have RE Adrian Clayborn lined up head-up on TE Kyle Rudolph, whose got a short split. Clayborn helps reroute him at the snap then rushes (something we could see Ogbah and Lawson do?). But watch Van Noy here. He's going to be lined up off-ball over the Vikings RT. He feints a rush upfield, stops and then loops around to the backside A gap. Adam Butler and Dont'a Hightower crash towards the strongside to effectively set "picks" (Ogbah, Lawson, Raekwon Davis, Wilkins) to allow Van Noy the free run at Cousins. Van Noy unloads on him and forces an incompletion.
KVN pressure pic.twitter.com/SkZgcyUMEg

— Kevin Dern (@KevinMD4) May 11, 2020
He doesn't notch a tackle, sack or pass deflection. Merely a pressure here. But his ability do run these pass-rush games is OUTSTANDING. Watch the 2018 AFC Championship Game and the Super Bowl victories.
Want one more? Okay, fine you've got me! This is in the Super Bowl victory over the Rams on a 3rd down in the first half. The Patriots are lined up in a 4-2-5 look, their marble concept (DB inserted over the nasty split or TE) and Van Noy is the MLB. He simply sits in the underneath zone and takes away two different receivers – almost like a spy. Then Jared Goff scrambles and Van Noy explodes to chase him down for a 14 yard loss on a sack!
KVN sack SB pic.twitter.com/voVH1imtON

— Kevin Dern (@KevinMD4) May 11, 2020
I expect Kyle Van Noy to be featured in multiple roles in this defense. Remember the picture of Miami's 4-2-5 look way at the beginning? He can play either LB spot in that look – outside where Eguavoen is or as the MLB where Jerome Baker is. He can play ILB in 3-3-5 looks. He can set the edge as an OLB in 2-4-5 looks. You can use him in all manner of ways in pass-rush games. And regardless of where he plays, he's very smart! You're going to get good reps out of him. Knowing this system already will likely propel him into a leadership role on the defense, which in my view, will help younger guys like Jerome Baker, Raekwon McMillan and Andrew Van Ginkel. He can make sure they're on top of their alignments and assignments and give them a living, breathing example of what it means to be a smart, tough and physical player. Do I sound like Coach Flores yet?
Jason Strowbridge
If you've followed me on Twitter leading up to the Draft, you know I've mentioned Strowbridge frequently as someone I've liked for Miami. And getting him in the 5th round is a bit of a steal in my opinion. He took on a role as a DT and 3-4 DE at North Carolina, getting minimal reps as a DE in a four man D-line. With the Dolphins, I think he'll slot into the same position as Emmanuel Ogbah and be a part of the rotation behind him.
His experience playing tighter techniques as a Tar Heel will be one thing Miami will likely try to build on in pass-rush packages. Here's a clip from Voch Lombardi's film review of the Senior Bowl with Strowbridge rushing as a 3-technique.
Strowbridge Senior Bowl pic.twitter.com/MbGZqd7tKq

— Kevin Dern (@KevinMD4) May 11, 2020
Our next clip of Strowbridge comes from the Tar Heels Bowl Game against Temple. We'll see Strowbridge lined up at LDE in a 4-man line. He's able to use an arm over move to defeat the TE and uses his explosion to get into the gap ahead of the pulling guard and help make a TFL.
Strowbridge stop pic.twitter.com/JKTrXhJmxe

— Kevin Dern (@KevinMD4) May 11, 2020
In this clip against Virginia Tech he's able to use quickly recognize that both the RG and RT down block and he's able to get inside of the TE who's trying to reach him and gets inside of the backside guard pulling. That play recognition is key and he's able to make a tackle for no gain. Strowbridge doesn't always exhibit the greatest get off/explosiveness off the snap, but when he does, his eyes take him to the ball well.
Strowbridge stop 2 pic.twitter.com/tjlew5s1Ts

— Kevin Dern (@KevinMD4) May 11, 2020
In our final clip, we're looking at something subtle that I think the Dolphins will appreciate. Remember Kyle Van Noy's pass-rush against the Vikings from above? Well, it's plays like this from the front line that allow those pass-rush games to happen. Here we see Strowbridge lined up at 3-technique to the near side. He rushes from the B gap to the A gap and is able to occupy the RG and the C, allowing the LB to have a free run at the QB. While the LB fails to make the sack, you can see how this translates to what Miami will be wanting to do.
Strowbridge rush pic.twitter.com/ZEK7ONpRFp

— Kevin Dern (@KevinMD4) May 11, 2020
Jason Strowbridge will need some coaching up, there's no denying that. But his length, power and experience playing tighter techniques will come in handy. I think his workload will steadily increase as the season moves on. But at first, I think he can help spell Ogbah at Big DE in 4-man lines and might give Miami something as an interior player on 3rd down pass-rush packages.
Curtis Weaver
I think most people are aware of the "good player, bad body" stigma that Curtis Weaver's carried throughout the Draft process. Daniel Jeremiah said as much when Miami selected him. Weaver could be a tremendous value pick for the Dolphins. I haven't seen Boise State a lot, but Weaver seems to be strictly a stand-up DE, and I'd think that he'd be that for Miami starting off. Think Chris Long at the end of his run with the Patriots. Weaver can be a 3rd down pass-rusher right off the bat. But I think he'll need to learn to play the run better in order to earn more snaps.
In our first clip we'll see that Air Force brings a wing-back into pitch phase to fake an option play. Weaver is the stand-up DE nearest to us. He's able to read that the motion player isn't getting the ball before he fully steps into his rush. He uses a rip move to get around the RT and does a nice job turning his rush path into the QB.
Weaver sack pic.twitter.com/1pPBxS8jlu

— Kevin Dern (@KevinMD4) May 11, 2020
This clip showcases Weaver's strength. Here he's able to split a double team for a sack.
Weaver double team sack pic.twitter.com/Idb81EaNjP

— Kevin Dern (@KevinMD4) May 11, 2020
In the final clip with Curtis Weaver, we'll see him use his length to set the edge against the run. Marion Hobby will be charged with coaxing this ability out of him more consistently. But when he does, this will help him see more reps.
Weaver TFL pic.twitter.com/c3G0Mt3pbv

— Kevin Dern (@KevinMD4) May 11, 2020
How all these pieces come together should be very fun to watch. Miami now has a pair of Big DEs – Ogbah and Strowbridge and a pair of Rush ends in Lawson and Weaver. Kyle Van Noy will be playing himself. We'll also likely see guys like Vince Biegel, Andrew Van Ginkel and Raekwon McMillan get some snaps on the edge as Brian Flowers wasn't shy about having those three play on the edge last year.
Another added benefit to this, could be that we see Christian Wilkin's pass-rush potential unlocked more in his second season. With some of these new edge additions able to rush from multiple spots, it wouldn't surprise me to see Wilkins benefit on twists across the line.
While I won't make any predictions on which of these guys leads the Dolphins in sacks, I will make two others:
1) These edge defenders will help Miami's run defense improve. A lot.
2) In terms of pass-rush and the totality of the defense, this group of guys will allow Brian Flores and Josh Boyer to run the defense the way they want to and not be constrained into boiling it down like they did in 2019.
That final point is something we as Dolfans should all be very excited about! #FinsUp